Finding A Pet Solution That is Right For Your Dog
---
We have the experience and the technology to create the best possible containment fence for your dog. We Guarantee it!
Free Quote
Service & Repair
Professional Dog Fencing Products and Expertise
Hoosier Pet Stop provides the Indiana area with professional, custom installations of the most advanced and effective electronic fence systems available today. The safety of your pet is important to us. With our electronic pet fence system, your dog or cat will be free to roam outside without having to worry about their safety, giving you Peace of mind.
All dogs are unique, just like their owners. As your local Dog Fencing Experts, we understand that everyone has different needs when it comes to pet containment.
Hoosier Pet Stop will evaluate your dog, listen to your needs and give you recommendations for a dog fence. We guarantee we'll create a customized electronic pet fencing system that you'll be satisfied with!
"Hoosier Pet Stop did a wonderful and thorough job installing the fence and training Zoey. Zoey loves the freedom the fence gives her and I love the peace of mind it gives me." D. Foster, Lafayette, IN
Freedom & Safety for Your Pet
Hoosier Pet Stop also provides unparalleled customer service and support, and even provides independent support for Invisible Fence® brand systems and most other underground pet fencing systems.
Outdoor Systems
We provide installations of outdoor underground fencing system that will not only keep your pet safely contained, but can also keep your pet out of your garden, landscaping, pool or other off-limit zones.
Indoor Solutions
Hoosier Pet Stop brings the benefits of boundary setting indoors, too. Our technology can easily keep kitty off the kitchen counter, the dog out of the litter box or correct any other behavior issues you may be having.
---
Like our outdoor transmitters, our indoor containment solutions also feature the same extremely customizable settings, and it also has a special wireless option.
Hoosier Pet Stop will evaluate your dog, listen to your needs and give you recommendations for a dog fence. We guarantee we'll create an customized electronic pet fencing system that you'll be satisfied with!
---
Custom Designs
We will walk you through the entire process, from picking out which fencing layout best suits you and your property needs, to training your pet to the fence. We want our customers to be experts, just like us! Below are our most popular underground pet fencing layouts, but we can customize the fence boundary layout if necessary – we can also make flower beds, pools, ponds (even streams, lakes and the ocean!) and other landscaping elements off-limits to your pets.
Most common
Full Perimeter Loop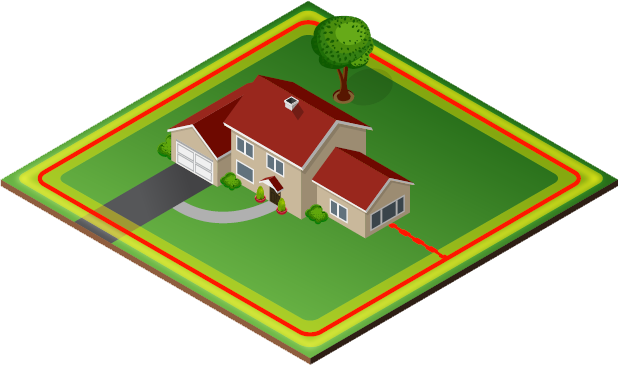 front or back yard
Figure
8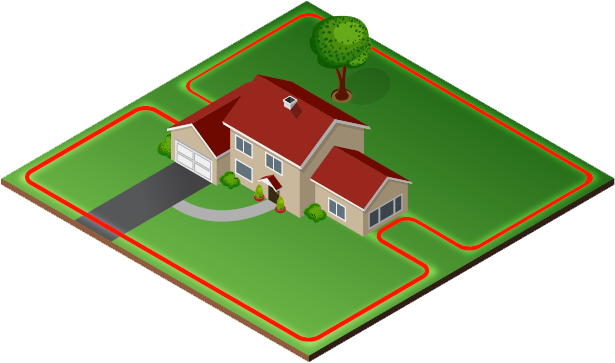 front or back yard Only
Double Loop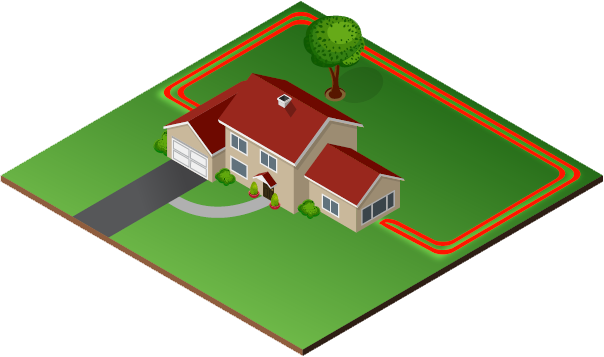 Small yards
Edge-To-Edge™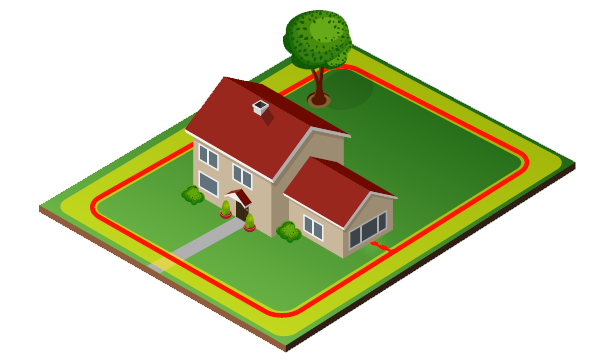 Pet Stop® offers a wide range of Custom and Unique Patent Features.
ComfortContacts®

Uniquely designed probes to provide your pet with comfort and safety. No steel pins or abrasive metal, only the comfort of soft rubber will touch your pet's neck.

TriScan™OMNI-DIRECTIONAL ANTENNA

No blind spots or "holes" because all our receivers incorporate THREE antennas ensuring full 360 degrees of signal detection.

FlashAlert®- LOW BATTERY LIGHT

No more guessing when to change the battery. Never purchase an expensive battery you don't need. This patented feature will flash brightly to alert you when the receiver battery needs changing.

Battery Duty Cycling

This patented feature extends the battery life to its maximum potential.

SafetyStop™ SAFETY SHUT OFF

Most products offer some sort of safety shut off but only Pet Stop products will shut off AND STAY OFF until your pet is free from the signal. Other products cycle on and off. Only with Pet Stop receivers can you feel confident of maximum protection from continuous activation.

SmartReceiver® - Progressive Levels of Correction incorporating anti-run through technology

Our receivers detect both how long your pet stays in the signal field and how deeply they enter it. The longer and deeper your pet is in the field, the higher the level of correction. This means your pets won't receive more correction than they deserve while maximum protection is still there when needed.

StayAway™ - Anti-Linger System

With some products pets quickly learn that the warning signal has no consequence. Not with Pet Stop receivers. Our receivers calculate the time your pet stays in the warning field and gradually increase the correction level until they retreat. This saves battery life and, more importantly, reinforces the initial training and conditioning.
GentleSteps™
Perhaps the most important part of the electronic dog fence, the fence training makes sure your pet knows their boundaries. We use a low-stress, pet-friendly training technique called GentleSteps™. Pets learn faster and are much happier with GentleSteps™.
Training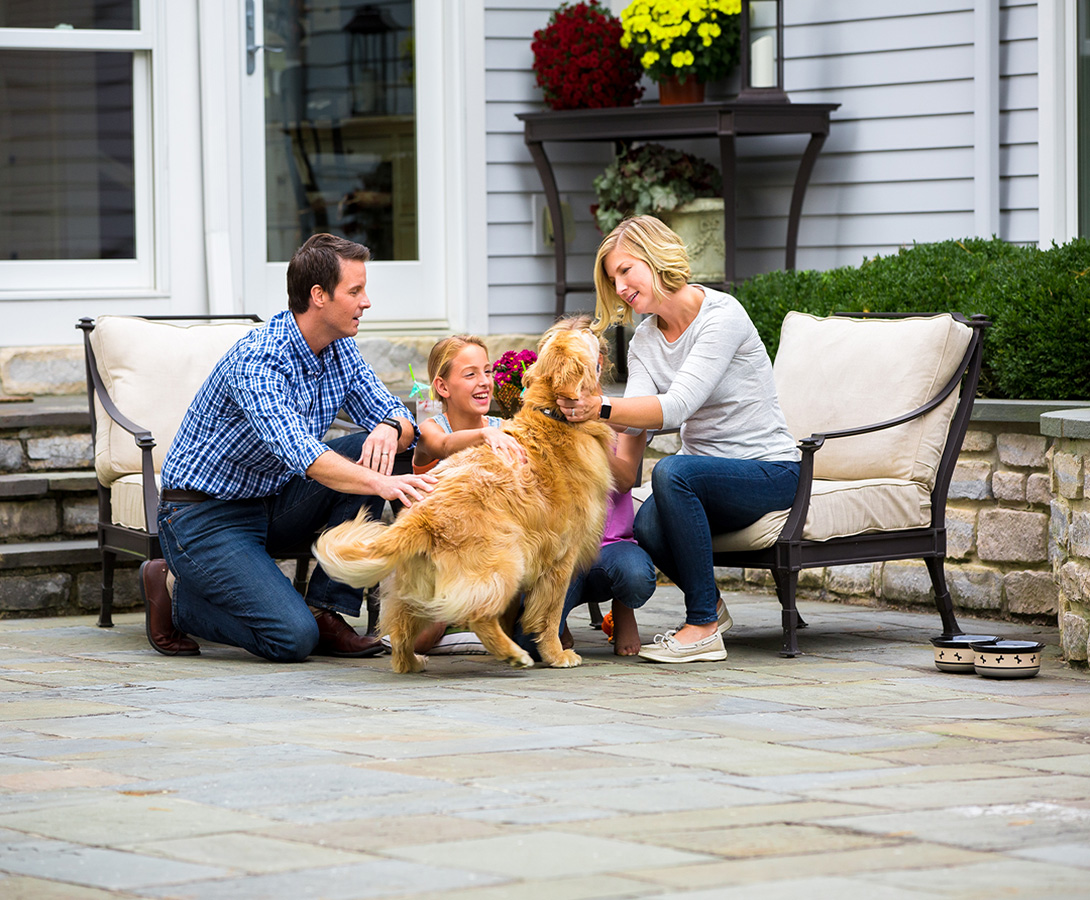 Current Owner Support
Hoosier Pet Stop is dedicated to providing you with ongoing outstanding customer support long after your initial pet fence system has been installed. If you have any questions, concerns, or require any maintenance or troubleshooting on your electronic pet fencing system, please contact us – we'd be happy to help.
Learn More!
Hoosier Pet Stop
We always love to hear from our customers. Feel free to contact us during our business hours.
Kokomo, IN-46901
Call Us Today 317-758-5778
Free Quote
---
---
Indiana Service Area
Boone County | Carroll County | Cass County | Clinton County | Grant County | Hamilton County | Howard County | Madison County | Miami County | Montgomery County | Tippecanoe County | Tipton County | White County